Personal branding has never been so important for business professionals that offer a service in a competitive environment.
And recruiters, headhunters, and corporate recruiters are the perfect examples.
How many hours of your day do you spend prospecting new clients or convincing candidates that you are the expert in your industry?
When was the last time a client found you?
If a client or candidate searches for a recruiter with specific expertise in their desired industry and location.
How do you get yourself to the top of that search?
The co-founders of Recruiterly wanted to provide a home for expert recruiters to build their brand.
By providing tools to showcase the specific experience that will form part of a client or candidates decision-making process when they are trying to choose their recruitment partner.
Time to improve your profile so clients and candidate want to contact you!
A small amount of effort to your profile will help you stand out from your competition. Lets get you started by navigating to the "Improve Profile" tab on your profile: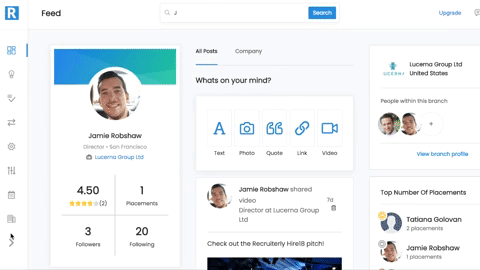 Most of the Improve Profile section should be self-explanatory. But let's dive a bit deeper.
Start with a profile photo,
Why?  One reason is to help other people to identify you.
Another is to help you express yourself and to help others to develop the right impression of you.  If you did not upload during the sign-up stage. Just follow the below video: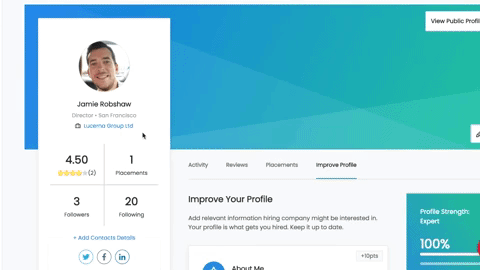 Q: How do I change the green banner image on my profile?
A: Time for an upgrade!  Changing the banner photo on your profile is available to all recruiters on the Premium Recruiterly plan. Check out the different plan options here under "Personal Subscriptions" tab.
About Me:
Even know recruiters have good sales skills sometimes writing about YOU can be difficult. Keep it simple, honest and don't try to oversell. 
Think about what you would want to say to a client or candidate in an elevator pitch, in one paragraph!  This is my About Me, but I also like to update and refresh this every so often.
Director of a small boutique recruitment company that specializes in search assignments in IT, real estate and engineering.
I have been in recruitment for over 12 years and love my industry.  I am keen to also talk to fellow recruiters about my mission to improve the perception of our industry!
I am also a Fulham FC fan and recently moved to San Francisco!
Tip: Remember to click the green "Done" button to save your work.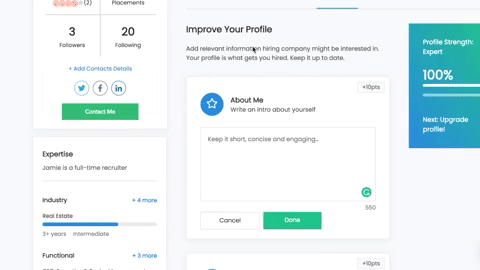 Connect Social Media Account:
This part is essential for you to be able to post your content to your social profiles, please check out the blog post Recruiterly Social Scheduler Tool for full the guide on connecting your social profiles.
Personal & Work Info:
This part is self explanatory, however please keep this part up to date to ensure, especially the "Company you work for field" which is the recruitment / staffing agency that you are currently employed by so we can connect you with your colleagues.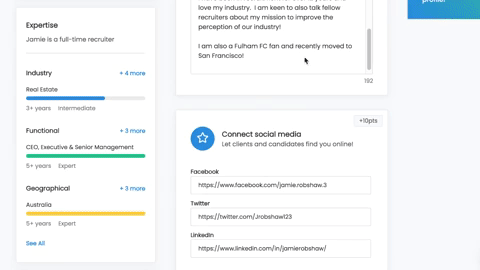 Add Industry Expertise:
Time to show the world your expertise that you can use to help a candidate or client when they need your services.
This section is not only important to show your potential customers that you are an expert. But also important data that Recruiterly will utilize when matching you within search results. Or when matching you to a potential client that is using our Marketplace to connect with a recruiter.
I have 12 years experience total, but the waiting for each expertise does not need to add up to 12 years. For example, I can have 10 years in Construction and 10 years in Civil Engineering. Like both of these, I gained in parallel.  I also worked in IT roles with different companies.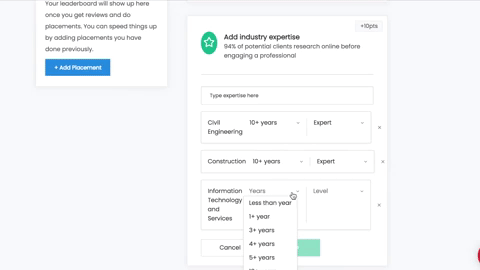 Q: What happens if I have 1 year in engineering recruitment but 5 years working in the IT industry but in a non-recruitment related role?
A: 5+ Years in Information Technology
AND
1+ Years in Engineering
Add Functional Expertise:
This part has a similar purpose to Add Industry Expertise section above. But this is where you can provide more detail about the type of roles you have filled within the industries you have recruited in. 
Important data for your clients and candidates as well as Recruiterly for search and matching purposes!
For my 10+ years in construction and civil industries, I focused on intermediate engineering roles and with a blend of executive assignments. 
During my time in an internal/corporate recruiting role. I recruited several marketing roles, so I have experience in these areas but I am not an expert. However, I am confident I have enough knowledge and network in this area to support a client in a search. So, I have listed these here.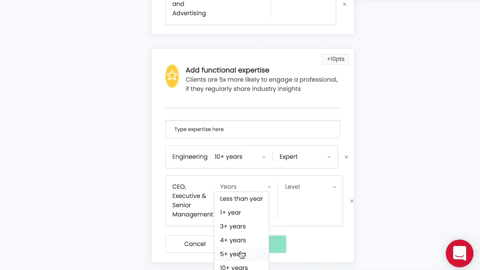 Add Geographical Expertise:
This is the part where you showcase your experience recruiting within a particular region, state or country. This is not your home or work location.
This is super important as a client will normally seek to find a recruiter in a geographical location relative to where they are looking for a particular candidate.
Q: But I don't recruit where I live?
A: This is exactly why we built this feature, as you may be based in Alaska. But you have 5 years experience in recruiting software developers in San Francisco, so you will add "San Francisco, CA" + "5+ Years" + "Intermediate or Expert".
Note: I am extremely lucky to have lived and recruited in so many locations, another reason I love this industry!  
What type of engagements do you recruit for?
What type of jobs do you normally fill for your clients? Permanent OR Temporary / Contract? Put it in here so we can match you to the right opportunities from clients on Recruiterly.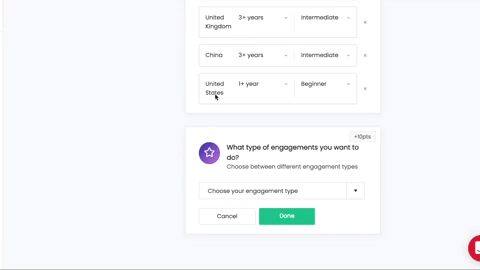 Q: What does my public profile look like?
A: Now you are all done improving your awesome new profile, time to see what it looks like to the public: