How do you efficiently automate your posts across your social profiles from Recruiterly?
Successful recruiters invest time in building their online brand. One method is by posting and sharing industry-related content. Such as videos, blogs, quotes, photos, etc.   
However, finding the time to individually post into each of your social profiles for each new piece of content. Can be time-consuming.   
To make your life easier. We have developed a super easy-to-use social media scheduler tool. That allows you to "set and forget" your social scheduling.
Every time you generate unique content on Recruiterly. The scheduling tool will automatically share at your selected time and day preferences across your connected social profiles.
Let's get started:
Using the Social Scheduling Tool is easy. Lets navigate from your Recruiterly dashboard to where you can connect your different social profiles.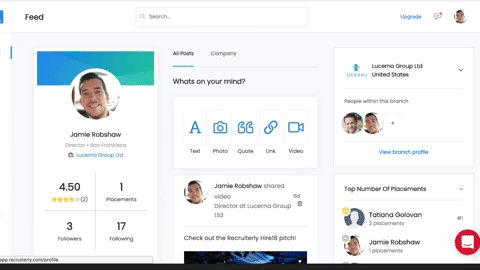 Connecting your social accounts is easy. Simply copy and paste your personal profile's URL from the address bar from Facebook, Twitter, and Linkedin. 
Once copied into the boxes. Make sure you press the green "Save" button to the bottom left of the Connect social media box on your "Improve Profile" tab on your public profile page.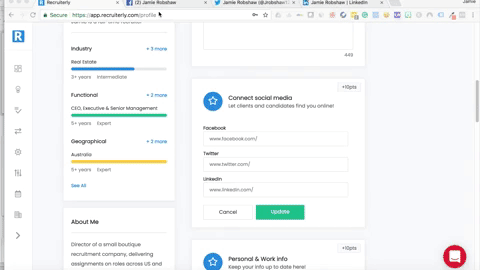 Now let's navigate the to the social scheduler where you can set your time and date settings for each platform: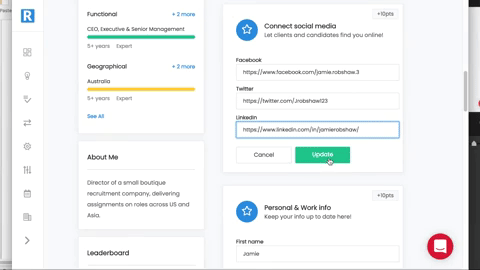 What and when do I post to which social profile?
How do you know when to post? Reviewing the performance of your posts frequently is important. Assess what time and day are best for their different content to be posted. 
However, if you don't know this information right now check out this blog by social sprout for optimum times.
Lets get started:
First of all make sure the buttons with "Facebook", "Twitter" and "Linkedin" are all blue. If not click on the button and ensure your profiles are connected.  If they are not connected their color will be Red or Grey.
Example Scheduler Settings:
For my scheduler settings under the Posts Tab I am going to use:
LinkedIn Profile: 16.00 Every Wednesday
Twitter Profile: 10.00am Everyday
Facebook Profile: TBC*
Time and day settings for Placement Tab and Reviews Tab should again suit your audience and activity levels.
Tab Descriptions:
Posts Tab:
This will set your schedule for when you post content. Such as quotes, article links, images, videos, micro-blogs, latest live jobs, etc. that are posted via your Recruiterly dashboard.
Placements Tab:
When you make a placement either off the platform or via the Recruiterly Marketplace (Marketplace coming soon!). The basic details of the placement will be shared across your social platform.
Don't worry no confidential information will be shared, you choose the information that gets displayed publicly and with your colleagues.
Reviews Tab:
When you receive a positive rating and review from a client or candidate. The review summary will be instantly shared across your social profiles and company feed within Recruiterly. 
Noting only the information that you request to be displayed within the reputation manager will be shared. For more details see our blog post: Recruiterly Explained: Reputation Management Tool.
Top Tip 1: Make sure you toggle the sliders in the scheduler for the social profile to be ready to post to. The slider must be blue.
Top Tip 2: any changes you make to the scheduler will only apply once you click the green "Save" button. Located at the bottom right-hand side of the scheduler tool.